To me, death involves mourning the loss of a loved one, adjusting to life without them, and dedicating time and energy to honoring their legacy. In Greek culture, death equates to "emotional and psycho-logical disaster". Thanatophobia, or fear of death, is prevalent as speaking of death is believed to bring evil into the home. Death is always a heavy event, but doubly so for the Greek.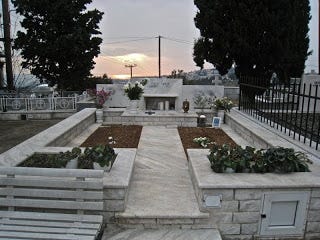 Not only do the Greek have to mourn during the funeral, they have to exhume the bodies 3-5 years later. With limited cemetery space, the law demands that bodies stay in the ground for a maximum of 3 years, so the family returns to dig up the often-fleshy remains to put the bones in an ossuary. Greece is overpopulated due to immigration from North Africa and North West Asia and now shelters over 100,000 Syrian refugees. In 2016, Macedonia closed borders to Greece preventing these refugees from leaving. Yet, Greece is 130th in population density, so why don't other countries have such limited cemetery space?

According to the church, when the body is buried, the soul goes to God and only the bodies remain. What's left must be preserved in order to give the soul a vessel for revival during the second coming. In reality, this has resulted in using bones as "building materials for ceiling trims, crests, and even chandeliers". Since 2006, it's technically legal to build public crematoriums, but nobody has done so because the Greek Orthodox Church prohibits cremation. In fact, their first and only crematorium was only built in 2019; previously, people had to send bodies to the closest crematorium in Bulgaria instead.

25% of the resurfaced bodies haven't fully decomposed. Treatments such as chemotherapy or drugs can slightly preserve the corpse. Only the rich are able to keep their family members buried for extended periods of time; a family plot costs between 18,000 to 118,000 euros and has just enough room for 2 bodies. When another family member dies, a previous member's bones must be exhumed and moved. For those less fortunate, rental plots (2 x 1.5m with an entrance) cost more than 40,000 euros. At an ossuary, storing the bones costs 25 euros a year for metal boxes and 70 euros per year for marble.

Here's what hit me the hardest. As bodies degrade, the skeleton loses the flesh to stay together, so bones scatter around. Those with foresight get to come by 3 years later to collect buried socks, filled with chattering toe bones. Those without must dig harder.